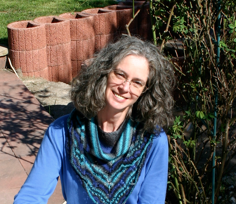 Hi, I'm Chris. I'm a writer and crafter of yarn and food.

I'm the published author of three books, two for children and one cookbook under the pen name Mrs. CW Mouse. I also knit, crochet, cook and garden. I'm a wife, mother, sister and friend. I talk to plants and animals. So far, they don't talk back. Much.

When my husband retires we'll be Texas-Idaho snowbirds. Currently his job has us in Italy, though that's subject to change without much notice.

CrissyCraft grew from my desire to bring all my creative efforts to one place. One of my best friends calls me Crissy so that's how this website got it's name.

If you're looking for my books, short stories, knitting designs or blog you've found the right place. You can also find me at my children's website, MrsMouseHouse.com,
and Chris Williamson, designer, on Ravelry.

If you have any questions, feel free to message me on Ravelry (mrsmouse) or email me here. I'm happy to help.